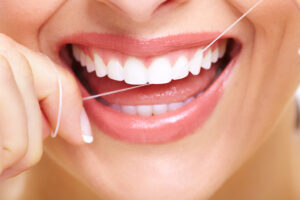 In 1962 the waterpik was first invented. Since then, people have been curious to know which is better for your oral health, regular flossing or water picking? Which one do dentists recommend? Before we skip directly to the answer, let's take a look at the pros and cons of each of the techniques.
Flossing
It may just seem like a boring piece of string, but it's so much more. Flossing is a great way of removing food that is in between the teeth or below the gum line. It's a very efficient method of doing so and it's probably one of the cheapest things you'll ever buy. Flossing is quick, easy, and you can get it done just about anywhere.
Unfortunately, in unpracticed hands, normal flossing can make it hard to reach some areas of the mouth. It can also cause minor bleeding, worsening or causing gum sensitivity.
Water Picking
Today, we're more dependent upon our technology than ever before. The waterpik is a special machine that shoots a stream of water into the mouth, using pressure to massage the gums and push food away from your teeth. It's incredibly easy to use, making it a great choice for people with braces or other types of dental work. The massaging effect can be a great benefit to gum health. Water picking is also easier to maneuver, getting to those hard to reach places that regular floss just can't seem to reach.
However, Waterpiks can be expensive and clunky to store in your bathroom. It also requires access to electricity and clean water too, meaning that you can't travel with it as well as you can with a handy pocket sized floss container.
The truth is, there really is no right answer as to which is the better flossing option. Depending on your needs and your circumstances, both are great options to get your flossing done. A study published in the Journal of Clinical Dentistry found that water picking reduced plaque by 74.4 percent while flossing only reached 57.7 percent. Water picking can also reduce your chances of gingivitis or bleeding gums when compared to traditional floss. However, many dentists still recommend string flossing as the best way to clean the gaps between your teeth.
Whatever you decide, our experienced dental team is here to help you maintain your oral health for life. Call our office today to schedule your next appointment.